An international scientific online webinar was held within the activities of the International Innovation and Application Center "Aquatic Artery", which began in March 2021 on the basis of Sumy State University.

During the online webinar, the priorities for the development of the Aquatic Artery Center were identified, which is formed on an interdisciplinary basis and is a focal point for the development of innovative project proposals focused on international grant activities, industrial implementation of engineering solutions for energy management and energy management, water treatment, the introduction of closed systems of water resources management.

Representatives of partner organizations from Belarus (Polisskiy State University), Germany (Technical University, Berlin), the Czech Republic (Czech University of Natural Sciences in Prague) took part in reports on the development of areas of cooperation in the scientific field within the activities of the Aquatic Artery Center, Austria (University of Natural Resources and Life Sciences), Slovakia (Technical University, Košice), France (National Institute of Applied Sciences, Lyon) and Japan (Low-Temperature Institute, Hokkaido University).

A representative of the National University of Civil Defence of Ukraine Roman Ponomarenko, Doctor of Technical Sciences, Deputy Head of the Department of service and training of the Faculty of Operational and Rescue Forces made a report at the online webinar.

As a result of the event, the strategic priorities for the development of the Aquatic Artery Center for the organization of work on joint grant proposals at the international level were identified.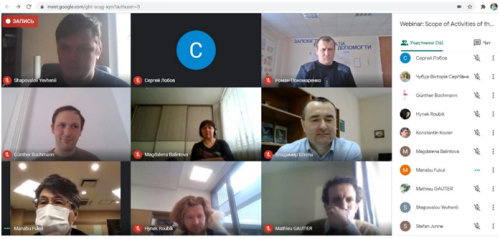 Press Service of NUCDU