On February 4, the National University of Civil Defence of Ukraine hosted a graduation ceremony. Today has become a crucial day in the professional development of university graduates. In total, during 2021-2022, the higher education institution of the SES of Ukraine graduated almost 700 specialists of various qualifications and forms of education.

Congratulations from the Acting Head of the SES of Ukraine Serhiy Kruk were announced at the solemn event. Rector of the University Volodymyr Sadkovyi also greeted the scientific and pedagogical workers and young specialists: "... I sincerely congratulate the graduates on graduation and obtaining a master's degree. Graduates of the National University of Civil Defence of Ukraine have always been distinguished by conscientious and professional performance of their duties, honest and dedicated attitude to the protection of the population and territories from emergencies of man-made and natural nature. I am convinced that the life path of each of you will now acquire a new meaning, and the knowledge gained during university studies will serve as a reliable foundation for successful professional growth, a solid foundation for reliable civil protection for our state and the Ukrainian people!"

Young specialists thanked the management and staff of the higher education institution, assured them that they would carry the high title of Graduate of the National University of Civil Defence of Ukraine with honor and dignity, thanked them for their constant attention, support and care.

An exciting and unforgettable moment of the festivities was the farewell ritual with the university flag. Joy and sadness shone in the eyes of the already young lieutenants. Sadness for the years they shared with their classmates in the barracks, and a bright hope that there is a real independent life ahead.

NUCDU creative groups - vocal "Anima" and dance "Flame" greeted the audience. The event was accompanied by the brass band of the university.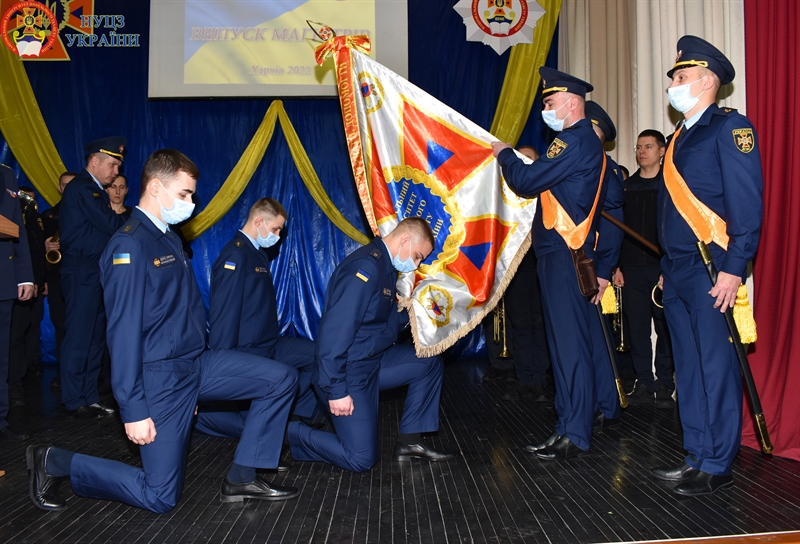 National University of Civil Defence of Ukraine